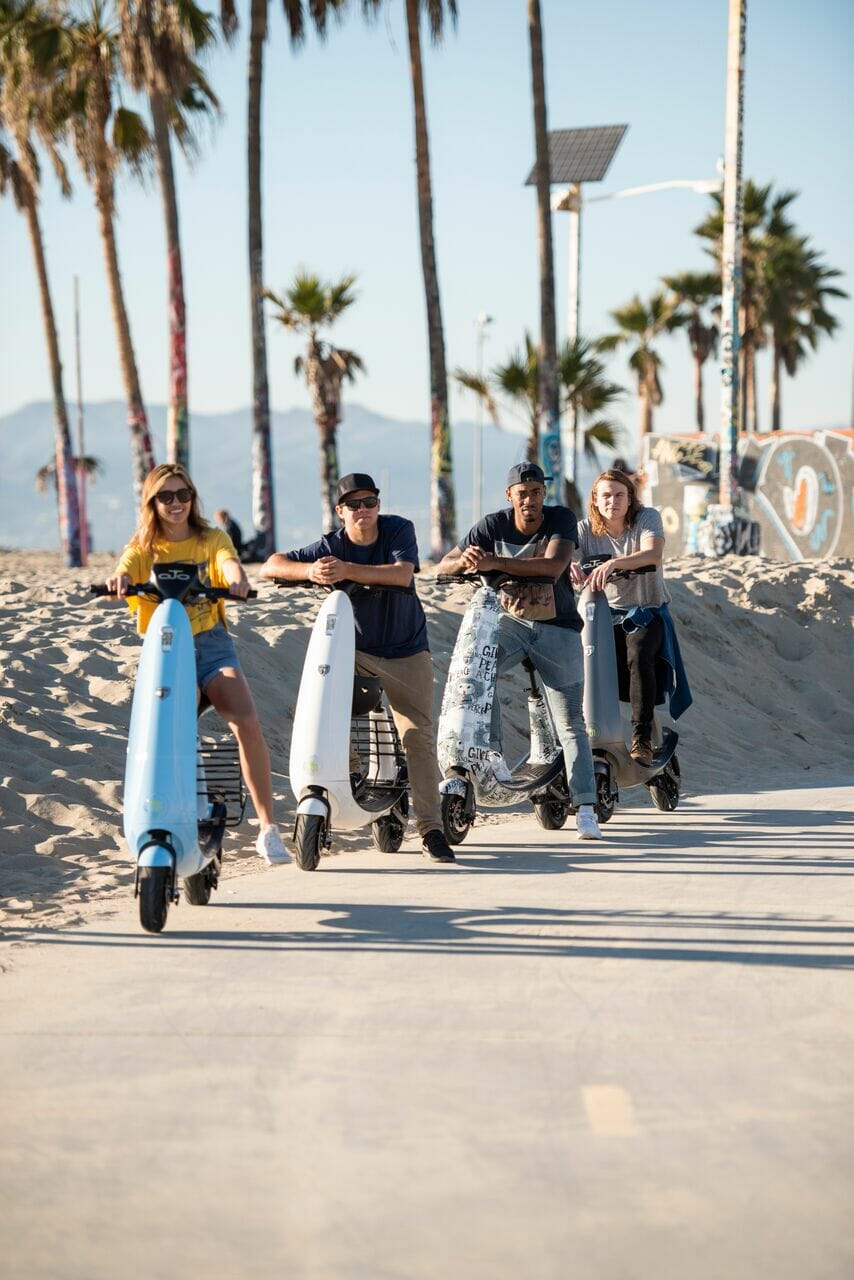 $25 per hour
$25 an hour, Full day rental $100. Delivery available for full day rentals in San Diego County.
Reservation and $200 deposit required for each OjO scooter you wish to rent.
OjO establishes the evolution of e-scooters with a patented ergonomic design that maximizes comfort, style, & agility. All-welded aluminum frame and durable ABS automotive grade plastic creates a combination of strength & beauty. The result is a strong & luxurious mode of electric transportation. Some of the additional features include:
•Patented 500 watt HyperGear hub motor
•User-friendly thumb throttle
•300LB weight capacity
•USB port for charging phone
•For self-protection, always wear a helmet
About the OjO
25 miles on a single charge
Top Speed of 20 MPH
No license required
Bike-lane friendly
Patented on-board charger with retractable cord and plug; plugs into any 110V wall outlet
Patented geometric design allows optimal comfort, versatility and enjoyment while riding
Exclusive non-glare interactive display screen puts all operational content at your fingertips
Dual integrated Bluetooth speakers
How early should I call for a reservation?

Call as quickly as you can 619-512-3491! Holiday weekends book the earliest in advance. We typically have good availability for weekday tours. Call us as soon as you know your ideal tour dates so that we can work with you to get you booked!

What are the age/weight limits?

For Segway Tours 14 years old, but more importantly Segways need riders between 95-280 pounds to succesfully register them on the footpads. No upper age-limit, but you want to be sure you're comfortable standing for 2 hours.
For Ebike Tours 16 years old, no upper age limit. Most people 5'3 to 6'5 are comfortable on our bikes if you're a little shorter or a little taller we can teach you some tricks to make sure you have a great time.

Shoes

Segway, flat (no rocking shape-ups) shoes you're comfortable in for duration of tour work great! Flip-flops, sandals, running shoes are all good
Ebikes, shoes you know that are comfortable while pedaling.

Tips

Price of tour does not include a tip; sharing tours is a service business and our guides very much appreciate gratuity, thanks!

Things to pack

Segway, we provide a bottle of water, and definitely recommend bringing a warm layer. It might get chilly in the shade and we'll be rolling pretty quick at 12mph.
Ebike we provide a bottle of water, there's a small pouch for keys, phone, wallet if you want to bring more than that you'll want to wear a backpack.

Cancellations

Call 619-512-3491, 48 hours prior to your tour to re-schedule
Tours are subject to cancellation due to weather and will be rescheduled based on availability

Are Segways hard to ride?

Nope! Most people become super comfortable after about 5 minutes of training and 5 minutes gliding around on your own!

Do you have to wear a helmet?

Helmets are mandatory and provided free of charge. All Guests have to wear a helmet. Even though it's extremely unlikely that you take a spill, we can't control everything in our environment (other people…)

Do you offer any Specialty Tours?

Yes! Call us 619-512-3491, we can create a special tour just for you and your group.

Can you cater to special needs?

Give us a call or email, and we're happy to accommodate whatever we can

What's special about your tours?

Read about each tour to find out more, but there's a lot we don't advertise. Special picture spots, surprises, lots of inside info. Best bet is to call us and chat or send us an email to find out more, or take the leap and book a tour, if you don't have fun we insist on not accepting your money!
Location

Downtown San Diego in The Meridian Building at 717 Union Street, Suite L, San Diego CA 92101 (Union Street and West G Street)

La Jolla 7430.5 Girard ave La Jolla CA 92037

Parking

The Meridian offers underground parking Mon–Sat $1.75 per 20 minutes

Cheaper street parking is available, but be sure to check meters or signs for fees and time limitation; Sundays and certain holidays all meters are free

La Jolla, street parking is free for two hours Mon-Sat on Girard ave, Fay ave a block over has no time limit but no matter what do not park at Vons!

As always, please call us if you have any questions about parking or anything at all 619-512-3491